The old saying, "its a small world", has become a reality in the world of economics. The economies of the the many nations around the globe have really become so intertwined, its like your kid bringing home the flu from school to share with the rest of the family. When one economy has difficulty or success the rest of the world follow right along. Here is a brief update on some of the larger players around the globe.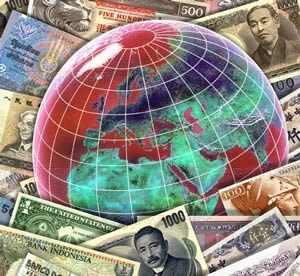 Japan's inflation rate is essentially zero as the country's Ministry of Internal Affairs & Communications reported in late February. Over the past year, Japan has seen its prices barely move up by 0.1%, reflecting sluggish consumer demand and lack of confidence among Japanese.
The International Monetary Fund (IMF) reported that the world economy is highly vulnerable due to a weakening global economy, depressed oil prices, and geopolitical conflicts. The IMF also released a report detailing its projections for growth, identifying India as the new growth engine of the emerging markets. China's slowdown over the past two years has been a concern.
India's growth has been terrific, however it poses the concern is it following in the path of China with rapid growth for several years then a long lasting slow down. Currently their GDP is up 1.7 percent and their unemployment rate is 4.9 percent with a healthy 5.18 percent inflation.
Dropping government bond yields in Europe are being seen as deflationary as the European Central Bank (ECB) strives to stimulate economic growth, but with minimal benefits thus far. Britain's consideration to exit the European Union (EU) has brought about uncertainty in Europe until a vote in June.
In recent days the dollar has climbed higher against other international currencies as comments have emerged from the Fed about a possible rate hike in April. Even though there is some weakness in the U.S. economy a small rate hike would certainly bring more money into the U.S. as other nations are seeing, in some cases, negative rates.
This month the U.S. Unemployment Rate dropped to 4.9 percent and the inflation rate leveled at 1.0 percent, with interest rates at 0.5 percent. The concern is how much the 1.4 percent GDP would be hurt if rates were increased.
Brazil's economy is still struggling, the jobless rate has hit a 7-Year high at 7.9 percent, with projections for higher unemployment the rest of the year. While their inflation rate has slowed to a 10.4 percent, their GDP has continued to contract for the past four quarters.
Each of these economies impact what happens here in the United States. It is amazing how inter-connected we have become over the past 200+ years. What we do also greatly impacts the other countries of the world. Our national debt for example is a huge concern, but that will have to wait for another article.
Gladly Keeping you up to date,
Wendell Brock
Sources: ECB, EuroStat, Market Watch, Bank of Japan, IMF
Remember:

"Socialism is a philosophy of failure, the creed of ignorance, and the gospel of envy. Its inherent virtue is equal sharing of misery." - Winston Churchill