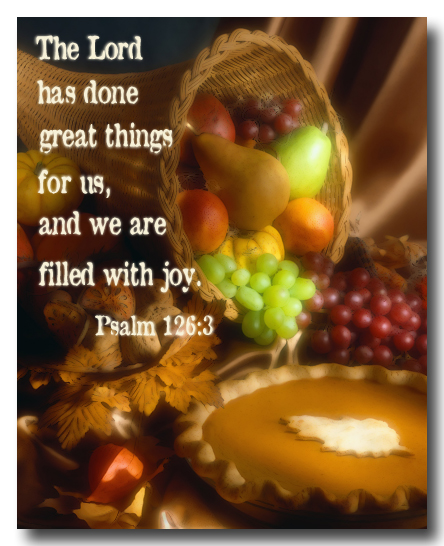 It has been nearly 400 years since the first Thanksgiving was held in Plymouth. I don't think the pilgrims knew what they were starting – or how the holiday has evolved, perhaps they would not be pleased either. The original idea was for it to be three days of thanksgiving and prayer for our bountiful blessings in this great land. Now it's a day of amazing feasting and preparation for the biggest shopping day of the year! Maybe someplace in the mix are a few prayers.

Growing up we always had family around, being the youngest of seven kids, my older brothers and sisters with their spouses and kids would get together as often as possible. My father would usually offer a humble heart felt prayer of gratitude for our many blessings. We would eat a meal my mother had prepared and visit, then she would whip some cream and we would eat pumpkin pie and visit some more. After a while folks would begin to head home with feelings of gratitude for a wonderful family and the blessings our Heavenly Father had poured out on us. Today in my own family we try to emulate those thanksgivings of my childhood.

I was saddened when I went shopping the day before for a few last minute things and the clerk tells me that if I still need something I can always come back and get it tomorrow because they will be open. I told the clerk at Walmart that I won't be back tomorrow, and I felt bad that Walmart would be open on such a day. And that they would take employees away from their families on this holiday. I wished her a good holiday.

It's too bad that corporations like that, just to get a competitive edge, require employees to work and stay open. Why can't America just for two days a year (Christmas included) put aside the quest for more and more profits and take a break. Don't get me wrong, I am all for capitalism and earning a good profit – but at what cost? Early Friday morning I saw in the news of altercations in Walmart stores, where people were videotaping with their phones the craziness of people grabbing discounted products. I had to ask myself WHY? Is a sale item that important that you would trample the person next to you to get the item? If so what have we become as a society? What were our prayers about the day before? That we would get to the sale items first?

In my mind nothing is that important. Period.
Thanksgiving should be about being grateful for the blessings that God has granted us individually and as a people. Gratitude is one of the most important virtues a person can possess and everyone should have it. We, as a people, have so much in life to be grateful for. I am personally grateful for my wife, kids, extended family, friends, clients, our great country, the gospel of Jesus Christ, and so many more things space won't allow to list.

I am reminded of the old Hymn, "When upon life's billows you are tempest-tossed, When you are discourage thinking all is lost, Count your many blessings; name them one by one, And it will surprise you what the Lord has done." Counting our blessings can be an eye opening exercise and one worth doing on a regular basis – not just saved for Thanksgiving. When was the last time you counted your many blessings and expressed gratitude for what the Lord has done? The feeling you have is amazing when counting your blessings and recognizing the Lord's hand in providing each blessing. Count on…