We typically know how much we spend each month, but do we really know the details? Budgeting is the process of creating a physical plan for the uses of our monthly/annual cash flow. A budget therefore is a spending plan, it is the document that tells you and others how and where the money will go. While that is the basic concept there are several aspects of putting together and implementing a budget, namely finding the data, drafting an effective budget, agreeing to the budget, and using a budget. Budgeting is an essential building block to personal finance. I hope to bring about a positive mindset about using budget, so lets explore these items:
Finding the Data

Right off the top this can be a task of self examination! I ask clients to go back through four months of check book statements and list and total where money was spent. Where people spend money tells a lot about what is important to them. The reason I ask for three months, some quarters may have a funny month of spending, it may require some extra data mining from another month or two in order to get enough accurate information.
Don't forget to list all the sources of income. Often the focus is solely on the spending, but listing income is important too. List bonuses, or second jobs, etc., an accurate income figure is especially important if it varies monthly due to commissions, overtime, or other factors.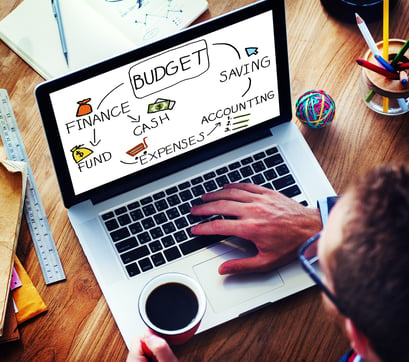 When assembling this information determine the level of detail to categorize the spending. For example there are several items that I buy at a grocery store that are not actually "food", but since I bought them there, I put them in the grocery category. I try to keep it simple, otherwise I could end up separating items on one receipt, calculate the proper tax, and then put them in their proper category.

Next arrange where the spending has been based on "Needs" vs "Wants". This is really important as it helps to prioritize our spending. Maybe you value your entertainment budget, but most likely it's not more important than your mortgage.

Drafting the Budget

Once the data is organized, it is easy to see where and how much money has been spent. This becomes our basis for drafting the budget. Make sure at the top of the budget is the line "Pay Myself First". Successful budgeters realize that they don't save what is left over, they save first and spend what is left over.
Add a bottom line figure of approximately ten percent of the spending part of the budget for "TIF" - Things I Forgot. We all forget items or things pop-up which need some attention. This is where those items go.

After subtracting the savings, spending, and TIF, from the income, the bottom line should equal a "0" - zero! This is called Zero Based Budgeting. If the figure is positive put more into savings, if it is negative, then look to the wants section for items which may be easier to live without.

This is where each person needs to come to grips with the "needs vs. wants" in the family finances. Focus on the needs then prioritize the wants and make things stretch as far as possible. However, do not eliminate or cut into savings. Savings is not the float figure in the budget!

Agreeing to the Budget

Now that the budget is drafted, it has to be agreed upon. It is critical that spouses agree to the budget, particularly if this process is to be successful and effective. Both spouses must be "All In"; one can't simply dip a toe, while the other dives in. I cannot emphasize this enough. It does not work well if one spouse works within the budget and the other spends what ever they want, after all they should be on the same team.
Because things change, spouses should have a monthly meeting about their budget items to review what was done the past month and what the plan is for the next month. This little meeting should be taken seriously, by calendaring and keeping the meeting time sacred - do everything possible to make it happen. Needed changes should be noted and agreed upon and then move forward.

Using the Budget

The budget is a financial tool, a spending plan - where dollars are told what their job is and sent off to do that task, in an effort to accomplish certain goals. What a budget is not, is a form of punishment! A budget should free us from many financial decisions that may be thrown at us on a daily basis through various forms of media. A budget is a way of disciplining ourselves by keeping our needs and wants in check.
We all have wants, a new TV, automobile, vacation, etc.. A budget helps us get these items by structuring how and when we get them. It keeps us from impulse buying, by predetermining how and where we are going to spend our hard earned money. This means that all these wants, can be had in their proper time, when the money is saved to make such purchases. This is a category I call "save to spend". My mother use to remind me as a young boy, "You can only spend it once!"

Let the budget work for you by developing the habit of using it. Make your monthly meetings effective, at times they may take only a few minutes to simply review and say, "no changes needed". Good, move on and have fun. Other times the meeting may take a little more time due to larger up-coming changes as to where money needs to go. Once this begins to happen regularly, recognizable progress will come.

Don't let the on-going meetings be the weakness that kills the process. Remember the meeting may only need to be ten minutes to review and discuss the next month. The habit and discipline of monthly meetings will be what greatly increases your success of sticking to your spending plan. Steven R. Covey said, "The power to make and keep commitments to ourselves is the essence of developing the basic habits of effectiveness." Keep it simple, but make it happen. With a new mindset about the use of a budget, your financial effectiveness will increase by keeping the commitment to properly manage your cash flow. Effective money management buys you financial freedom.

For more information you can see this article: Budgeting 101 and you may download my FREE simple
.

REMEMBER:
"Kindness is a language which the deaf can hear and the blind can see." ~ Mark Twain