Recently I was told that there are 3-4,000 people per month in the Dallas Metro area who turn 65; the baby boomers are entering retirement in full swing. That is a lot of folks who are now descending on the local social security offices to collect the long awaited benefits, for, which they contributed many years.
Many folks wonder if they will ever receive any benefits, due to the financial state of the country and in particular the Social Security Administration (SSA) Trust Fund. I have always told people that the money may not be there, but you will be paid. After all, when have you known the government to shutter an agency and send over 68,000 government workers out on the street to find another job? It just doesn't happen.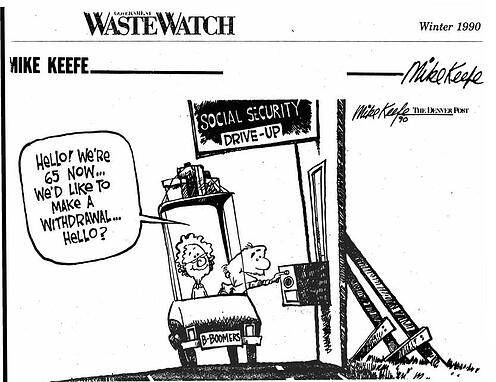 At times, when I find a really good cartoon, I cut it out of the paper, like the one attached. This says drawn in winter 1990, 24 years ago when the baby boomers were in their early 40's. Fast forward to 2014 and it seems nothing has changed!
So now, that we have established that Social Security will be there, now comes the question of how or when to take the benefit? There are several strategies to the challenge of maximizing the Social Security payment, while keeping the tax man at bay.
Here is one idea. Most people don't know that they can "file and suspend", meaning that they can file for the benefit and then immediately suspend receiving the benefit until they are a few years older. This strategy may be best used when one spouse has a higher income than the other. The spouse with the higher income files and immediately suspends receiving the benefit, while the lower-earning spouse files and receives half of the benefit. While the one benefit is suspended it continues to grow until the suspension ends. Once the higher-earning spouse reaches age 70, both can collect their own benefits in full.
While many people continue to work during the early years of retirement, they will want to watch how their income is paid to them so they can minimize the taxes on their Social Security. They may want to take money from their IRA's first before receiving Social Security, thus reducing the taxable income from that source early on. This may help keep Social Security payments from being taxed if payments are put off for a few years.
How are you planning for your Social Security? Are you using any strategies to get the most benefit you can?