Last week I discussed some of the factors that go into the decision about when to take Social Security. The discussion was primarily based on working the numbers and coming to the basic conclusion that it is an entirely individual choice based on one's financial situation. This week I want to add to this discussion some of the qualitative aspects of life that should not be neglected when making such a decision.
To give an example of what I have in mind for this discussion, consider some of these questions: Will I be better able to do some of the things I have always wanted to do if I take Social Security earlier rather than later? If I wait on taking Social Security will I have the stamina, interest and motivation to do the things I want to do now, later in life?
Last week I showed that the payout is often larger by waiting a few years to take Social Security, however, will waiting enhance the quality of your life? Would you be wiser to take it at a younger age and use the lesser amount to fund some of the life experiences (travel, toys, etc.) that you may not have the stamina or interest to pursue later in life?
The US Travel Association reports that the average age of leisure travelers is 47.5 years old. Mature travelers comprise 36 percent of leisure travel volume (18% are 65+, 18% are 55-64). Nearly two in ten (19%) are 45-55, 17% are 35-44, 20% are 25-34 and 8% are 18-24 years old. I give this statistic because many people dream of traveling once they retire. The majority of travelers- 36%- are over age 55. Will you have the money and the stamina to fulfill your travel dreams? Would the decision to take Social Security earlier help you reach that goal?
The American Psychological Association reports that a number of physical changes occur as adults reach age 65. The most common are listed below.
Hearing impairment among older adults is often moderate or mild, yet it is widespread; 48 percent of men and 37 percent of women over age 75 experience hearing difficulties.
Visual changes among aging adults include problems with reading speed, seeing in dim light, reading small print, and locating objects.
The amount of time it takes to respond to features in the environment once they are detected is typically slower among older adults.
The proportion of older adults needing assistance with everyday activities increases with age. Nine percent of those between ages 65 and 69 need personal assistance, while up to 50 percent of older Americans over 85 need assistance with everyday activities.
The top five causes of death among older adults are heart disease, cancer, cerebrovascular disease (relating to the blood vessels that supply the brain), pneumonia and flu, and chronic obstructive pulmonary disease. In spite of a decline in physical health, two-thirds of older adults who are not living in institutions (such as nursing homes) report their health to be good, very good, or excellent compared with others their age. What's important to remember about people over age 65 is that while many begin to experience some physical limitations, they learn to live with them and lead happy and productive lives.
These statistics can help us factor in the very real changes in health that we experience as we age. Not that everyone will experience some or all of these health challenges, but to simply acknowledge that the older we get, the more physical limitations we can expect. What do you want to do with your life before physical limitations set in that would thwart your dreams?
The point is that there is a qualitative dimension to this choice that is often overlooked or ambiguously lumped in the statement of 'individual choice'. People often forget to take into consideration the aging process with its diminished energy and somewhat constricted abilities, and therefore run the risk of not achieving their dreams and dying with a pot full of money. Abraham Maslow once commented that you can pay too much for money.
In researching for this article, I wondered, how are seniors spending their money? Below is a chart showing the top five areas that seniors are spending their money. It may surprise you to see education listed. This is typically due to either contributions to a grandchild's college fund or else paying off college loans that were co-signed by the seniors.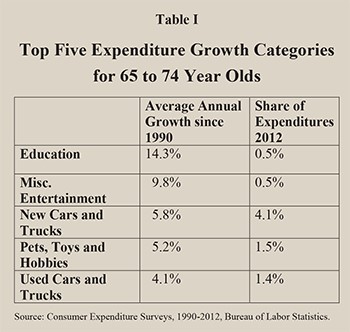 Now see how those expenditures change as seniors age past 75.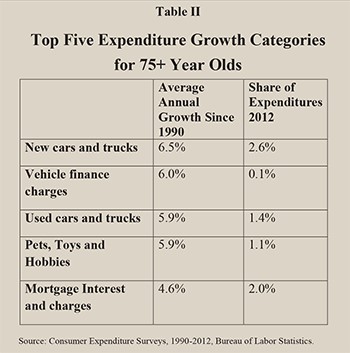 Seniors spending reflects their hobbies. For 65 to 74 year-olds, for instance, notice that two of the top five fastest-growing expenditure categories are miscellaneous entertainment, which includes exercise equipment, photography equipment, campers, boats and other motorized recreational vehicles, and electronics; and pets and hobbies, which not only includes expenses for pets and pet supplies, but also toys, games, tricycles and playground equipment.
The Baby Boomers are far more active than their parents were. They have traveled more places, participated in more sports, and likely climbed more mountains. All resulting in an active lifestyle, that will be interesting to watch as they continue to age; how and when will they start to slow down?
According to the Bureau of Labor Statistics, the number of seniors age 75 and older are around 12,147,000 with a mean after-tax income of about $34,245 and a mean expenditure of $34,395.
One more thing that is noteworthy to mention is that 25 years ago, the credit card debt of seniors was negligible, and now it is around $5000 for seniors aged 75 years or older. I hope these statistics give you an idea of how to plan for your senior years. It isn't just about the numbers, but it is very much about the quality of life you want to maintain during those years.
I would like to share the story of a dying 85 year old man imagining how he would've lived his life differently if given the chance. It is found in the book Living, Loving & Learning by Leo Buscaglia, who discovered it in a journal of humanistic psychology.

He says, "If I had my life to live over again, I'd try to make more mistakes next time. I wouldn't try to be so perfect. I would relax more. I'd limber up. I'd be sillier than I've been on this trip. In fact, I know very few things that I would take so seriously, I'd be crazier. I'd be less hygienic. I'd take more chances, I'd take more trips, I'd climb more mountains, I'd swim more rivers, I'd watch more sunsets, I'd go more places I've never been to. I'd eat more ice cream and fewer beans. I'd have more actual troubles and fewer imaginary ones.
You see I was one of those people who lived prophylactically and sensibly and sanely hour after hour and day after day. Oh, I've had my moments, and if I had it to do all over again, I'd have more of those moments. In fact, I'd try to have nothing but beautiful moments- moment by moment by moment.
I've been one of those people who never went anywhere without a thermometer, a hot water bottle, a gargle, a raincoat, and a parachute. If I had to do it all over again, I'd travel lighter next time. If I had to do it all over again, I'd start barefoot earlier in the spring and stay that way later in the fall. I'd ride more merry-go-rounds, I'd watch more sunrises, and I'd play with more children, if I had my life to live over again. But you see, I don't."
The bottom line is that as we age, we may not want to travel as much, go out to the movies as much, or visit great grand-children who may be graduating from Kindergarten (as important as that may be). We may simply choose to stay closer to home and do less, simply because our perceived needs are changing and we discover that we want less. While this may be the case, and it is hard to predict, exactly how we will live at that age, choose to be happy with what you have. Manage your affairs so that when you do take Social Security it works for you and your life style, not just by the numbers.