Providing financial counseling for many years, a question like this often comes up: Why is it hard to start saving? Money is a very emotional thing and we all have our own thoughts and opinions about it's use, which can be very personal. We can always jus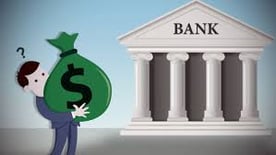 tify our wants into needs - its a matter of developing the strongest argument as to why this or that is a need not a want, thus eating up our entire pay check on the mixture of real needs and perceived needs (real wants).

Here are some reasons why it is hard to start saving money:

1. Saving money requires self discipline - lots and lots of self discipline. There is no one around "forcing" us to save money, like the government forces us to pay taxes. Saving is 100% on us personally. With each and every paycheck that comes in we have to make the choice to save. Establishing a habit of saving comes after months and perhaps years of successful saving.
2. The money we want to save is competing with the money we want to spend - there are so many wants and perceived needs that we look at and say, "I can afford this" and so we spend the money before saving. When in reality we might not be able to afford it, but because we want it we buy it.
3. People tend to spend first and save what is left over, when they should save first and spend what is left over. These priorities are mixed up. When we spend first and try to save what is left over there is never enough to save. We can always spend what we earn and our spending/perceived needs increases with our income.
4. Successful savers save first. They pay themselves first and pay others last. They sacrifice their short-term wants for long-term goals. They understand the difference between needs and wants and they focus on their self-discipline in other areas of their life so saving becomes a more natural extension of their disciplined life. In our society of instant gratification, which is filled with stuff, we focus on the things we don't have. With some justification we make those things into needs, and exchange our future savings for wants, thinking they will bring us happiness, ignoring our future.
Keeping a budget (you can learn more at Budgeting 101) in line is a very key element to saving money. Our spending can and often does expand with our earnings, making every purchase important! One key to being a successful saver is to have an emergency fund established. And ONLY use if for emergencies!
How do you go about saving? Many people simply save through their work via payroll deduction. They may contribute to the company 401(k) plan or other savings vehicles and call it good. Real savers do save through work and save more on their own. They simply move some money to an old fashion savings account, then when that gets to a significant size they invest it in some manner. Savings can be built several different ways.
Saving money can become a priority. Developing the self discipline to save will be an attribute that will bless you for years to come. Struggling with it is natural, have faith that it can be done! Go do it!! Please let us know how you go about saving money. What are your challenges with saving money - outside of your company retirement plan?

REMEMBER:
"The Power to make and keep commitments to ourselves is the essence of developing the basic habits of effectiveness." Stephen R. Covey