A couple days ago the Federal REseve raised its short term rate 0.25 points, on that note we hope tha it has not spoiled your holidays! Americans seem to love debt, as many use debt for major purchases and economist use debt as economic indicators. While Americans are paying off their debt in one area they are increasing it so much in another area that economist are now following that debt much more closely…
Debt…
Following the financial crisis of 2008-2009, bank loans and financing became very challenging for U.S. consumers. As the job market has improved over the past few years, more Americans are working, thus allowing them the ability to pay down left over debt from the crisis.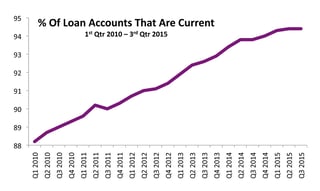 Demographically, most loans are taken out by younger consumers with growing families in the prime of their spending and borrowing years. Improving debt, characteristics of younger consumers, may also lend to better saving and investing behaviors as finances are managed better.
Delinquencies are a gauge of how well borrowers across the credit spectrum are able to repay their loans on a timely basis. Should delinquencies rise, it is an indicator of various factors, including weakening job market, lower wages, increased household expenses, and overextended consumers.
Over the past several months, delinquencies have dropped with an increased number of consumers paying their debt off on time. Such a pattern is an encouraging indication of improving consumer dynamics.
Auto Loans
Rather than struggling to get approved for a new home loan or refinance, Americans are instead financing cars, where getting a loan approval is easier. The ability of fresh loans available to car buyers is also helping to elevate auto sales dramatically throughout the country.
This past quarter, auto loans, outstanding reached $1 trillion for the first time ever. The amount of total auto loans is rising faster than the amount of mortgage loans.
The average car loan is approximately $21,700, with the average monthly payment at $400. The average purchase price stands at about $32,529.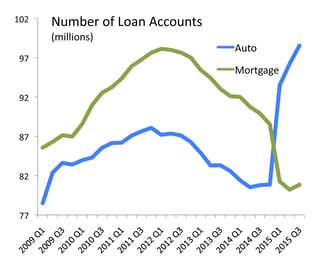 As expensive as some automobiles have become for some people, an auto loan is the only method of actually affording the pricey cars of today. Over the years, several automobile companies have established their own financing thus allowing buyers to buy and borrow directly from them.
Economists have always placed a value on home mortgages, an indicator of economic growth, since homeowners must eventually furnish and maintain their valuable purchase. But now, the amount of auto loans being made is tracked by economists as yet another indication of consumer spending ability. An improving job market and stable wages have allowed consumers the ability of obtaining larger loans on more expensive cars.
Years ago I learned that most people (more than half) purchase a new car within six months after buying a house. I have watched many people do this over the years and then watched the struggles afterwards. Debt no matter the purpose is a cruel task-master. I encourage everyone to get out of debt, however fast you can, get out and stay out of debt.
I remember the old silly joke: if you are going to spend money on a car vs. a house spend it on the car, because you can always sleep in a car, but you can't drive a house!
Source: Federal Reserve
REMEMBER:
The best pillow is a clear conscience. Merry Christmas