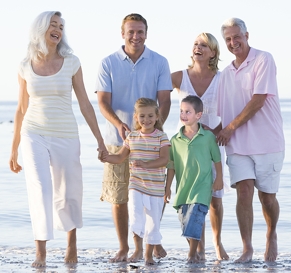 There are two things in life that are inevitable: death and taxes, as the old saying goes. This article will discuss ways in which you can protect your family upon your death with life insurance – there it's been said; no one likes to talk about life insurance! While this may not be a very uplifting topic for most people, it is better to plan and be prepared for the event now, than to put it off and perhaps leave your family coping with both your loss and a personal financial crisis.
If you have young children at home, this is an especially important topic. It doesn't matter if you are a breadwinner or a stay-at-home parent. Having adequate life insurance coverage for both spouses will ensure that your family will be provided for once you are gone.
A good rule of thumb is to have ten to as much as twenty times your income in life insurance coverage. If you are in debt, this amount should cover any remaining debt, burial costs and leave money enough to invest, whereby earning a rate of return that replaces your lost earnings.
If you have a small policy through your employer, that may not be enough. A small policy may be able to cover burial expenses and living expenses for about a year, but what will your family do after that? You may need to review it and consider purchasing a separate policy. Making sure you have plenty of coverage will allow your family to live comfortably until they figure out the next step in their lives.
Waiting too long to buy life insurance is risky for a few reasons. First, it is always possible that something may happen to you before you are able to buy a policy and your family is then left unprotected. You may have a change in health that could substantially increase your rates or even eliminate your ability to have life insurance. Also, life insurance is cheaper to purchase when you are younger and the rates are locked for the set time of the policy.
In considering the term length of the policy, don't try and save money by purchasing a shorter term. A lot of health changes can happen in a small amount of time and you could be hampering your future ability to have inexpensive coverage. As a general rule, if you are planning on having children in the future, having a 30-year or longer plan might make sense for you. If you have young children but are not planning on having any more, than a 20-year policy might be appropriate.
You may have needs that truly last a lifetime and would require a mix of term insurance and permanent insurance. That is a challenge is to properly asses a family's needs and plan accordingly. Even though some needs may change over time, some financial needs are constant or some needs are replaced by other needs.
Insurance premiums are based on three general areas: the insurance company administrative expenses, company investment returns, and mortality expenses (death claims paid). Term rates are generally lower due to the fact that so many of the policies expire before the company pays a death claim. Fewer claims, lower premiums. Permanent insurance or cash value policies are typically in-force for a longer period of time and thus experience more death claims and thus have higher initial premiums. Even with term insurance, a 30 year term policy will be much more expensive than a 20 or 10 year term policy – the risk of death and thus the risk of paying a death claim is greater for the insurance company – so the premium expense is much higher.
It is good to review your policy from time to time to make sure your coverage is adequate to your needs. Circumstances and needs change as life progresses and you may find that the policy you purchased 10-15 years ago will no longer do for your family. Perhaps you are making more money now and your family is used to a higher lifestyle. Or maybe your health habits have improved and you can qualify for better premiums. Periodically assessing your circumstances can either help you save money or require additional coverage.
Be sure to shop around before you purchase your insurance. At times the cheaper policies have the most stringent underwriting standards, thus making the slightest health problem(s) a standard rate instead of the advertised preferred rate. Independent agents can pull quotes from many different sources, thus ensuring a competitive quote. Educate yourself before purchasing any policy.
Life insurance is a major part of a wise financial plan. Love your family enough to protect them from a financial crisis in the midst of their grief. Remember the insurance is not for you – its for the people you love most! Is your family properly protected?