Talk is, that one of the reasons the market is falling right now is because it was overpriced, which may be the case, however another part of the problem has been that when considering options, where else can you put your money?
Banks aren't much of an option – at the continuously low rates it makes it pretty painful to leave money there. At least when rates were higher and a depositor could get 4%-6% at a bank you had a fairly good risk free option. Too much cash on the sidelines will certainly cause the market to be bid up. Maybe it's an issue of supply and demand – there aren't enough shares to go around, so the prices get bid up.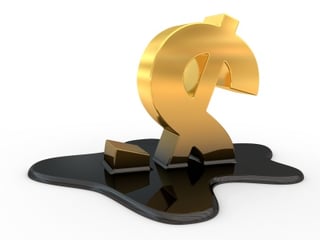 Insurance companies, which are very long-term investors, are currently running about 2-4X or more the rate banks are offering. These rates are certainly going to help folks get better returns, with little to no risk. But when chasing performance even those stable rates don't appeal to everyone. So this week I thought we would look at one reason why the market has tanked over the past several weeks, and consider the option of putting more money in the market – after many of the stocks and bonds are clearly on sale!
Below is a look at why the markets are falling, what is up with bonds, and a check on precious metals.
Why Stocks Went Down When Oil Went Down – Domestic Equities
Equity markets descended in January alongside oil prices, while testing new lows with a visible increase in volatility. Oil's dramatic price drop has been a catalyst for stock prices heading lower, a so-called correlation that has actually existed for years.
There are various theories as to how oil and stock prices might be correlated, yet one of the most accepted revolves around macro economic global dynamics.
Oil is the most traded and actively utilized commodity in the world whose consumption represents the economic activity worldwide. So when oil supplies grow and demand drops, markets interpret that as an economic slowdown. Such a slowdown thus migrates into the equity markets, where economic activity and growth is essential for expansion and higher equity prices.
Lower oil prices can also be beneficial for certain sectors, such as consumers, transportation and airlines, whose primary expenses are fuel. Economists expect a possible lag effect with recent low oil prices, which may eventually appear on corporate income statements. Obviously, lower oil prices are not conducive to oil industry sector companies, whose margins shrink as oil prices drop.
Some fixed income investors now view U.S. energy stocks as opportunities to earn higher yields on dividends compared to where they were months ago. Lower valuations on energy stocks have led to higher stock dividend yields as prices have fallen.
Does this mean that the markets won't recover until oil prices go up? For that answer only time will tell…
Fixed Income – Global Bond Markets
The Fed is now at odds with nearly every other developed country central bank as others employ a rate decrease and stimulus strategies.
In its latest FOMC meeting in January, the Fed decided to leave its rate hike plans intact, disappointing markets and lifting U.S. rates slightly. The Fed did acknowledge slightly lower economic growth and volatile equity market conditions as variables to monitor.
International rates fell in January as central banks moved forward with stimulus efforts aided by lower borrowing rates. The ECB and Japan both reduced their key lending rates enough to drive markets in both regions towards risk assets. Japan's central bank surprised markets by lowering one of its main lending rates into negative territory for the first time in order to stimulate its sagging economy.
Gold and Silver - What's Up?
Considering the markets and the downward trend, it seems that Gold and Silver (precious metals) have come off the winner over the past couple months. Both gold and silver are up, about 14% and 10% respectively. It makes sense to own some precious metals, but as with any investment how much higher will it go? Typically, people own precious metals as a balance to inflation but it can be a stabilizer to an investment portfolio.
With that news, it looks like for the time being, Gold is floating to the TOP! So does this mean we are at the bottom of the current sell off? No, perhaps but not likely. Does it mean its time to put more money in the market and buy while things are on sale? Maybe. Many of these answers are particularly personal to your current situtation that is why a good comprehensive evaluation is valuable.
Sources: Federal Reserve, Bloomberg, Economic Premise #150 World Bank, IMF Research Bulletin, Federal Reserve System Perspective
Remember:
"The hardest thing in the world to understand is income tax." - Albert Einstein