It's funny in conversation how many times people when asked what they are invested in talk about the hot stock fund from last year, which they were not in, but they are now! They just bought some! How many times have you found yourself looking at investment options find yourself looking at last year's performance figures and say, "well that one did great, I think I will put some money there."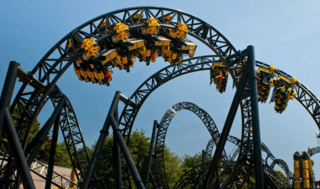 That is the wrong way to approach to investing – after all past performance is no indication of future results. The thought of being a Monday morning quarterback and calling the plays after the game is over just does not work well as an investment strategy. It may be better to simply keep a small amount of money in several funds and rebalance than think you can be a "crystal ball" investor and always pick the winners.
Its the ups and downs that get people sick - the roller coaster may be fun for a theme park, because it last for a couple minutes; an investment portfolio is suppose to last many years! That is a lot of ups and downs - particularly when chasing last year's best performer.
My friend, Dr. Craig Israelsen, PhD., wrote an article on Chasing Fund Performance and how impossible it is to select the winners regularly. However by keeping a diversified portfolio you will generally pick-up some winners and maybe some losers. Over the long term the winners will outweigh the losers and the portfolio will succeed.
In the article he describes what happens when portfolios chase the best asset class of last year. The growth rate of that model really drops when compared to other model portfolios. As Israelsen points out, it drops to 2.71% over a 15 year period. This shows the value of a well-managed diversified portfolio. Using his 7Twelve portfolio over the same time period the 15 year annualized return would be 7.95%.
There are a ton of investment strategies that people use, if you are looking for a solid balanced portfolio, then I invite you to read the article – you can down load a free
.
REMEMBER:
Sam Ewing Said, "Inflation is when you pay $15 for the $10 haircut you use to get for $5 when you had hair."