A 40-year ban on U.S. oil exports was lifted as the House of Representatives and Senate passed a spending bill that included the dismantling of the decades-old rule.
In response to the Arab oil embargo, the U.S. imposed regulations in 1975 that restricted the exportation of crude oil. For years, oil companies and industry leaders have sought a relaxation of the export restrictions in order to compete in the global oil markets.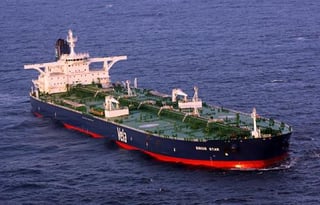 As oil production has risen, so have the inventories and stockpiles of crude oil. With a growing supply of crude oil reserves, oil companies are eager to export crude to satisfy demand from foreign countries. Net crude oil imports have dropped nearly 25% over the past five years, as U.S. production has steadily increased.
The growth of the oil industry in the U.S. has been a significant help our economic growth these past several years since the Great Recession in 2008. It has helped provide jobs in many sectors as companies have scrambled to ramp up to serve the oil industry. While global oil prices are down now, many of the more established companies are still profitable, many are looking for a merger opportunity to keep going.
According to the Energy Information Administration (EIA), U.S. oil production averaged about 9.45 million barrels a day in 2015, marking the highest production levels since the mid 1980's. At 487 million barrels at the end of December, U.S. crude oil inventories remain near levels not seen for this time of year for the last 80 years.
As the U.S. has increased crude oil production, demand for U.S. oil has also risen worldwide. In the international oil markets, there are two primary types of crude oil: West Texas Intermediate (WTI) and Brent Crude. Both are used as benchmarks in pricing oil worldwide, with varying prices depending on existing supplies.
WTI is also known as Texas light sweet (Texas Tea) because of its relatively low density, light characteristics and sweet because of its low sulfur content. Conversely, Brent Crude is a bit heavier and not as sweet, thus making WTI a higher quality oil and more desirable worldwide. The lighter and sweeter WTI is easier and less expensive to refine and distill into gasoline, diesel, jet fuel, and other fuel products.
For the past few years crude oil production in the United States has surged tremendously because of the technology behind horizontal drilling and hydraulic fracturing, primarily in the states of North Dakota and Texas.
The United States is becoming one of the world's leading oil producers and refiners, it is considered good for economic and job growth nationwide. Inexpensive crude along with an abundance of supply in the United States has allowed refiners to become extremely profitable and capable of efficient refining.
The International Energy Agency (IEA) estimates that any exports of U.S. crude oil will be quickly consumed by the international markets and help stabilize any supply inefficiencies caused by political uncertainty in the OPEC countries.
Divergence of WTI and Brent Oil Prices
West Texas Intermediate (WTI) represents the price that U.S. oil producers receive and Brent represents the prices received internationally. The two prices have been diverting due to a recent surge in production in the United States that has caused a buildup of crude oil inventories at Cushing, Oklahoma, where WTI is stored and priced. Before this increase in U.S. oil production, the two crudes had historically traded in line with each other.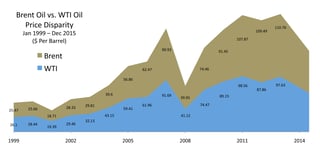 Realization of an oversupply issue put pressure on oil prices throughout 2014 & 2015. Crude oil production in the U.S. has surged because of the technology behind horizontal drilling and hydraulic fracturing, primarily in the states of North Dakota and Texas. Fracking makes it possible to extract oil and natural gas in places where conventional technologies are not effective. Fracking involves the use of high water pressure combined with sand and chemicals to create cracks in rock that allow the oil and natural gas it contains to escape and flow out of a well.
Both oil benchmarks have fallen substantially over the past two years. Brent lost 48% in 2014, followed by a 35% loss in 2015. WTI lost 46% in 2014, followed by a 30% loss in 2015.
Sources: IEA, EIA, Commerce Department
Remember:
"Truth will rise above falsehood as oil above water." - Meguel de Cervantes