Two weeks ago I went and purchased a bunch of stamps and commented to the lady serving me at the counter, that postage prices just went up in January and I missed buying some stamps at the lower price… She explained that the price increase was just for packages, not stamps and that the price of stamps was staying the same! Well hold on, now we have this announcement from the Post Office:
For the first time in 97 years, the U.S. Postal Service is lowering the price on first class postage. Effective April 10th, a first class stamp will cost 47 cents, down from 49 cents. The last postal price drop was in 1919 when a first class stamp dropped from 3 cents to 2 cents. (Image at right is the World War I Victory Stamp printed in 1919.)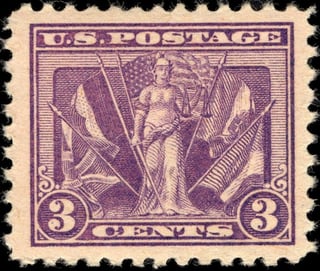 The price reduction is part of a prearranged agreement with Congress when the USPS was allowed to increase the price of stamps by three cents in 2014 in order to stem a dramatic loss in revenue. The price hike was set to last for only two years, allowing the USPS to raise over $4.6 billion in revenue. Stamp prices may still increase as inflation picks up, since postage is pegged to inflation.
Optimistically for the USPS, the advent of internet sales has spurred a growth in package shipments over the past few years. Standard mail, such as first class letters and postcards, represent 76% of postal revenue.
Other postage dropping in price on April 10th includes postcards, from 35 cents to 34 cents, and international stamps from $1.20 to $1.15.
By the above numbers the average American uses nearly 350 stamps per year or a savings of only $7. For the typical consumer that uses a few stamps here and there its not a big deal, but for the small to large businesses that relies on the mail service and uses thousands of stamps a month this will add up. The savings can be quite large for these businesses.
Unfortunately for those who so far have purchased countless types of Forever stamps with an array of pricing, colors and themes, new purchases at the new "Forever" price will have to be made while putting aside all others priced above until the (not-so) Forever stamp is again at least 49 cents.
This will most likely be a temporary price reduction as the Post Office is always in need of funds, I would expect by the end of the year they are back in front of Congress looking for a price increase. (Now the Post Office won't have the $4.6 billion they raised from the last price increase.) If you can wait to buy your next order of stamps do so, saving a little money and stock up!
Sources: USPS
Remember:
"The quality of a person's life is in direct proportion to their commitment to excellence, regardless of their chosen field of endeavor." -- Vince Lombardi