"Nothing can make the spirit fly higher than finding a bargain when you're the buyer. And nothing can make the spirit sink deeper than finding it later a whole lot cheaper." Has been one of my favorite sayings over the years. A few years ago I submitted that saying to my friend, Mark Skousen who was writing a book, The Maxims of Wall Street.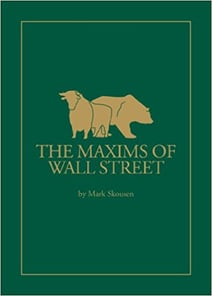 I went a few months ago to listen to Mark speak at a conference and to my surprise he quoted this saying in his presentation; he told my he uses it in all his presentations now and always gets a good laugh! (It's very important for an economist to get a laugh!)
Mark is considered to be one of the top twenty economists in the country, and is frequently interviewed by various news outlets on economic issues.
This book is full of whit and wisdom from many of Wall Street's finest investors, some of our nations greatest thinkers, and many brokers is a fun read. Many of the sayings are very true and others are … clever old sayings.
Some sections include: How to Make a Million, Market Timing, Bargain Hunting, Contrary Investing, Only a fool holds out for top dollar, Risk and Reward, Leverage and Debt, Fear and Greed, you get the idea. If there was a Maxim on Wall Street it is in the book.
Allow me to entertain you with a few exerts from his book:
"A mariner does not become skilled by always sailing on a calm sea." - Heber J. Grant
"The market does what it should do, but not always when." - Jesse Livermore
"I am often in error, but seldom in doubt." - Ira Cobleigh
"One of the most dangerous enemies to a trader is a magnetic personality." - Edwin Lefevre
"A trend in motion stays in motion, until it stops." - Jim Dines
"Don't confuse brains with a bull market." - Humphrey B. Neill
"If you are a long term investor, you will view a bear market as an opportunity to make money." - John Templeton
"Haste makes waste." - Ben Franklin
"You should give your kids enough money to do anything but not enough money to do nothing." - Warren Buffett
"Bad news travels faster than good news." - Poor Richard's Almanac
Now that you have a feel for what is in the book - go get a copy!
Wall Street and the entire financial industry has certainly produced some interesting characters over the years. I don't recall promoting or reviewing a book before on my blog, so let me know what you think? Some maxims are true while others are false, which adds to the humor of this book. The maxims clearly provide a little insight into the person who said it. You can get a copy of Mark's book by clicking
. It certainly is a fun read!
Remember:
"The worst thing that can happen to an investor is to make money on his first trade. He thinks investing is easy."
- Mark Skousen