Outcome-based wellness programs are more popular than ever. Employers want to reward employees who take personal responsibility for their health. The obvious goal of the outcome-based wellness incentive approach for employers is to reduce medical costs. In addition to this, employers lose money when their employees are sick or injured, and other employees have to make up for their absence. It is in an employers best interest to encourage healthy behavior from their employees.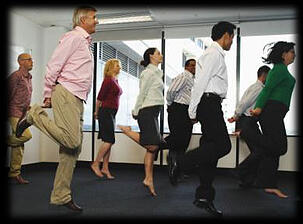 Recently, requirements for wellness programs were issued as a part of the Affordable Care Act (ACA). The main goal of these wellness regulations is to make sure employers do not use wellness programs as a way to discriminate. The regulations state that there are two types of wellness programs: Participatory and Health Contingent.
A participatory wellness program functions in a way that the reward (or penalty) is based on participation only – so the average employee does not have to meet a health standard (e.g. blood pressure below a certain level).
A Health Contingent wellness program can be activity only or outcome-based. With the activity only option, there is a requirement to do some activity related to a health standard but the user is not required to meet a specific health standard. An example of this might be to require an employee to do exercise or follow a diet that can help reduce blood cholesterol.
For the outcome-based option, the user must attain or maintain a health standard such as body mass index, cholesterol, blood pressure, etc. or meet an alternative standard to qualify for an exemption.
Here are several elements to consider if a company offers a Health Contingent program: If an outcome-based program is used, one element is that a "reasonably designed program" must be provided to help the employee change their numbers and achieve the reward. These guidelines specify that the employer cannot require the employee to pay for this effort and the requirements must be practical.
The ACA regulations state that there must be alternative ways to earn the reward or to have the standard waived altogether. A possible statement to help accomplish this might be: "Our goal is to help you be healthy by providing a wellness program that includes rewards! These rewards are available to all employees. If you think you might be unable to complete tasks required to earn a reward in the wellness program, contact us at (insert contact info) and we will work with you to modify the tasks so you can still qualify for the reward." This statement could be included in your open enrollment materials. This statement in other words negates the "standard" because the programs standards can be modified for anyone who thinks they are special.
The requirements also counsel employers to use a Health Risk Appraisal that is HIPPA and GINA compliant. "Do not base incentives, health enrollment, eligibility, or benefits on genetic or family medical history information."
Wellness programs that are just getting started should be a "participatory" wellness program for at least the first year. This means that employees should not be required to participate or to meet a health standard in order to qualify for benefits, etc. In other words, rewards should be based on participation in the wellness program and not on health screening data, personal medical history, or addictive behaviors.
The primary notion of an outcome-based incentive strategy is to offer rewards for healthy behaviors and penalties for unhealthy behaviors. But from a scientific perspective, is this approach effective? The Safeway case study is commonly cited to support the outcome-based approach because Safeway had a flat medical cost trend from 2005 to 2009 purportedly by tying employee health insurance premiums to outcome-based wellness incentives. However, Safeway's program began in 2008, making it an unlikely cause of the flat cost-trend between 2005 and 2009. The truth is, the evidence is fairly limited at this point.
Too many outcome-based strategies simply raise standards that must be met by employees to qualify for preferred rates without providing behavioral tools and skills to help employees adopt and maintain healthy behaviors. That is a little like requiring an employee to produce a business report without providing a desk or a computer. When an outcome-based strategy is paired with a well-designed wellness program that creates impact – you have a winning combination!
The key for employers then is to create a healthy culture by providing tools and skills to help employees change. This can be done in part by providing incentives. There are essentially two ways to provide incentives and both have one primary advantage and disadvantage.
Strategy number one is to reduce the employee portion of the premium every month, which is a good thing now but it creates complexity for HR, payroll, and/or benefits. Strategy number two is to reduce employee portion of co-pays and deductibles along the way (good thing later). This strategy comes with the advantage of administrative simplicity that HR, payroll, and benefits managers will love. Other incentive ideas include a discount or rebate of a premium or contribution; a waiver of all or part of a deductible, co-pay, or coinsurance; the absence of a surcharge; or the value of a benefit that would otherwise not be provided.
If the goal is to reduce medical costs, employee must make healthy life choices. The outcome-based wellness strategy is promising because it provides tools and skills to help create a culture of health coupled with incentives that encourage employees to change.
These programs are more complex and maybe difficult to implement due to the over-kill of ACA regulations. With a little paperwork and tracking; this type of a program can be instituted in small businesses as well, which can help the owners too, by providing extra benefits they can qualify for, thus making a fitness membership tax deductible.