Children are near and dear to most everyone's heart. This week being Mother's Day, I want to address the need for insuring our children - there I said it yes - the need to place life insurance on our children. Many will say that children do not need life insurance simply because they do not have an "economic value", after all they are not a bread winner of a family. Perhaps there are some other reasons to insure your children (this also applies to grandparents insuring their grandchildren), lets explore a few.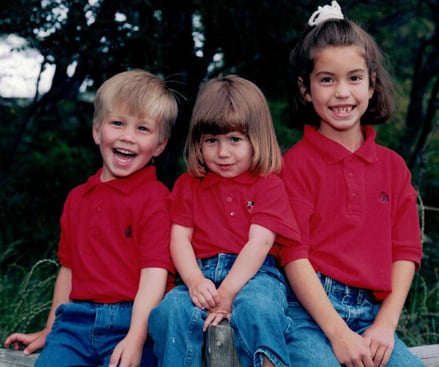 When I was in college I remember an employer, who had five incredible children, tell me that every child is born with a bank account. There is always a way to raise a child. Many years later I would have to agree. My wonderful wife and I are the parents of six children whom we love and are proud of. They bring more joy into our lives than we thought could be possible. We hope they live long healthy lives.
One quick lesson on life insurance. Insurance in general is based on risk that a particular event will happen - in the case of life insurance, the risk event is death. Because it is anticipated that we will all live a long life, the older we get the more expensive life insurance costs. This is for two reasons:
1. We are potentially closer to death so the risk of dying goes up dramatically.
2. The death benefit is funded by the reserves of the insurance company, which are built by many people paying premiums to the company. Even if you lived to be age 100, a person 55 years old would have a shorter period of time to pay the premiums into the reserves than a ten year old, thus requiring more premium. There are other factors at work as well, but these are two basic reasons it is inexpensive to insure children.
As adults, we do all we can to protect our children. Unfortunately, after all we can do, death can still happen. Children die for many reasons or causes: illness, automobile accidents, drowning (according to the CDC, it's still the number one cause of death in children ages 1-4), and acts of violence, to name a few. I believe when parents have children, they look forward to a brighter future, thinking that their children are going to grow up and do something great. As parents we visualize our children's beautiful wedding, college graduation, having children of their own, as well as their successful career. Back to some reasons to insure children:
Life Lessons
One reason to place insurance on a child is to teach them some of life's financial lessons. Many of these lessons are best taught while young. Teaching children about money and its uses in life can be enhanced with the added lesson of life insurance, what it is for, how it is used and the simple fact that life is fragile and we have an obligation to protect it. Sometimes these lessons may include a long-term vision of life and the expenses we may inccur throughout our entire life, in other words some expenses never go away.
Child's health
Life insurance is issued based on a person's health. People must be able to prove they are of a certain health standard in order to be offered a policy. Most children are born very healthy and yet over time in their youth they develop certain childhood diseases that may cause simple to dramatic health issues later in life. These health issues can prevent them from obtaining life insurance when they are older and are a "bread winner" of their family. Or they may be able to obtain life insurance but it is dramatically more expensive due to the extra health risks caused by the ongoing disease. The healthier a person is, the cheaper their life insurance will be.
For example, one disease many children get is diabetes. According to the CDC, by age 20, 4.3 million people are diagnosed with diabetes. Any one disease can cause a policy to be issued at less than a standard rating, which cause premiums to go up. Many illnesses prevent children from obtaining insurance at all, simply because their risk of death is now too great.
By obtaining a policy when a child is young and potentially at their healthiest point in their lives is a wise move. The premiums on a ten year old are much less expensive than a 30 year old young married mother or father. With the right policy the premiums will never increase for the rest of their lives, from age ten to 100. This insures that they will have at least some amount insurance when they are older.
Economic Value
While children are not the bread winners, they do have economic value. After all parents invest a lot of money in their children, all with the idea that they learn through their education and extracurricular activities to be successful someday. I am in no means suggesting that the insurance is a way to profit from the death of a child - that is completely sick and wrong. What I am suggesting is that children do have economic value.
Once I was visiting with a friend a church, who happened to be a mortician. His funeral home had recently handled the death of a child and he mentioned to me that the worse part of his business was seeing a family go into debt to pay for the death of a child. His answer to that problem was that he wished every parent had insurance on their children.
For parents the birth of a child and the death a child are both expensive. While you hope the latter comes much later in life, unfortunately for many it does not and when parents are grieving their loss to add the expensive burden of a funeral, that only adds to the grief.
Other Reasons
Families often ask: How to save for college? One method is with a permanent policy that builds cash value, those funds can be used to help pay for college expenses. A friend has paid for all three of his daughter's college education from the cash values of his children's policies. In this way the family is using their dollars very efficiently - while building cash reserves, they are also providing protection for their children. For every premium dollar invested there are multiple benefits that can be achieved.
Here is an example of a range of rates, insuring a child age 5 can be as low as $395 per year for a $100,000 death benefit. A 15 year old is only $637 for the same benefit.
While this is a sensitive subject to discuss, I wish all children well and pray they have the best in all they pursue. I hope this information offers greater understanding about the value of life insurance for children. Insuring children while they are young and healthy, teaching them about financial literacy, helping them realize they do and will contribute to society, and helping them prepare and save for their future are great reasons to get them insured now. Considering the above - I think the question is: Why on earth would someone NOT insure their children?
If you have any questions or you would like
feel free to drop me a note.
Remember:
"Little choices we make will be bundled together and show clearly what we value. Those choices will also show clearly what we are." Boyd K. Packer