The Federal Reserve operates under a dual mandate, with three key objectives for monetary policy (which the Fed sets) to accomplish: Maximum employment, moderate long-term interest rates, and stable prices. Two of these three have been validated for the most part, with unemployment at 5%, and long term bond yields above short term bond yields. Stable prices (also known as inflation control) is monitored and released by the Consumer Price Index (CPI) each month and has been fairly subdued for sometime, until now. The Bureau of Labor Statistics which tracks the CPI reported that prices, as measured by the CPI, increased at the highest rate in three years as of April 2016. This latest report showed prices increasing at annual rate of 1.1%.
A 1.1% inflation rate may not sound like much, but the data hidden within this number reveals something that the Fed may be concerned with. When broken down, the categories with the largest price increases nationwide were medical care services, transportation, and rent. What's amazing is that the CPI increase would have been much higher if it wasn't for the dramatic drop in energy and oil prices.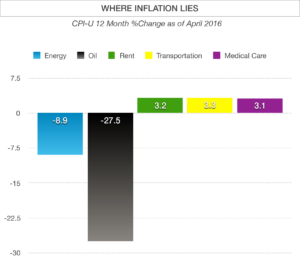 The Fed considers various aspects of the economy and the country's demographics when drafting its monetary policy. The fact that American's are aging and are requiring more medical attention is an inflationary threat for retirees. In addition, many younger American's are still having a very difficult time in securing mortgage loans, thus forcing young families to rent rather than buy. Such a dynamic has increased demand for rentals nationwide, forcing rents to rise until more supply is made available.
One cause of the medical inflation is the fact that Medicare, in an effort to control costs, continues to reduce payments to hospitals and doctors. The reduction in payments causes these businesses to look for other more profitable lines of business - meaning they stop seeing medicare patients altogether. This lowers the supply of services, thus raising the costs - it is simple economics. The additional problem is the enrollment in medical schools are down since the passing of Obamacare - meaning we are producing fewer doctors.
While demand for rentals is high, so are sales of new homes. Housing is always challenging because of the time it takes to bring new home developments on line. The housing standards and regulations are so difficult, that it leaves fewer opportunities for low income housing. Gone are the days when a 1 bath, 3 bedrooms, 1000 square foot house is considered adequate. And yet for many first time home buyers maybe this is what the market needs (except I would opt for at least two bathrooms!).
I think the next CPI report will have inflation at a much higher level, due to the recent large price increases in the energy sector. It is certainly affecting many people on the expense side, while at the same time it is good for the oil companies, who are starting to see a future in their business and maybe an opportunity to employ more people.
It has been said that high blood pressure is a "silent killer"; Inflation is the silent killer of personal finances. Many may be asking how this will affect their investment portfolios and plans for retirement or issues with their own businesses. As inflation heats up, people need to be prepared. Helping people get prepared for these events are what I do - so if you want to be more prepared or you want a second opion on your current level of preparation call me for a no obligation free consultation. Click here for
.
Sources: Bureau of Labor Statistics, Federal Reserve
Remember:
Inflation is one form of taxation that can be imposed without legislation.
Milton Friedman