There are a few types of insurance coverage that are essential to have in this day and age. Disability insurance is one of those. If you die, your life insurance will take care of your family; but if you get hurt and become disabled, then what? The average monthly benefit from Social Security disability is $1,004 a month. Will that be enough to take care of your current needs?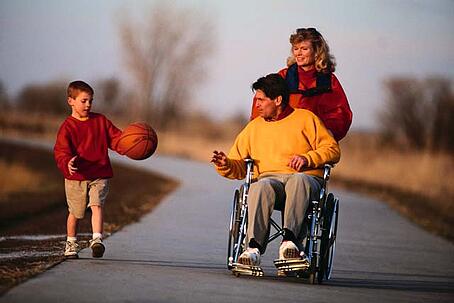 Many people live such active lifestyles that the risks of a serious injury is very real. We all know someone who has been injured playing one sport or another, an auto accident, or simply injured falling off a ladder trimming the tree! It happens all the time – that is why we have Emergency Rooms at the hospitals!
Disability insurance helps protect a portion of your income and provides financial protection if you become disabled for an extended period of time. If you are permanently disabled, not only will you be unable to work, but you may also need financial resources to be cared for. Anyone who depends on their income to pay the bills or maintain their lifestyle should consider disability insurance protection.
Many companies offer great rates on disability insurance to their employees. You can also shop around for private insurance companies to find out their rates and policies. Make sure 65-70% of your current income is covered for an extended time period, usually until death or age 65.
A simple rule of thumb is the M.U.G.® Plan = Mortgage, Utilities, & Groceries. Do you have enough disability insurance to cover these three very important expenses? Think of it this way, which job would you prefer:
| | | |
| --- | --- | --- |
| Monthly Income | Job A | Job B |
| While Working | $6,000 | $5,900 |
| If Disabled | $0 | $4,000 |
There are some key features of disability insurance that are important to be aware of. A disability insurance policy can complement existing disability benefit coverage that may be available to you. A disability insurance policy is fully portable; you own the policy and so you can take it with you throughout your career. There are policies that offer flexible solutions for various income levels. Also, depending on how the policy is set up, the benefits may or may not be tax-free.
Determining whether your benefits are taxable depends on a few factors. These factors include what type of benefits you receive, whether the premiums were paid with pretax or after-tax dollars, and who paid the premiums (you or your employer).
The rules surrounding taxation of individual disability income insurance benefits are generally simple. When you pay the premiums with after-tax dollars, the benefits you receive are tax free. When you pay your premiums with pre-tax dollars, your benefits will be taxed. This rule of thumb is the case whether you are enrolled in a group plan, a cafeteria plan or a medical reimbursement plan. However, unlike health insurance premiums, you can't deduct premiums paid for disability insurance as a medical expense.
If you are enrolled in a group disability insurance plan sponsored by your employer, the tax-ability of your benefits depends on who pays the premium. If you pay the total premium using after-tax income, then your benefits will be tax free. On the other hand, if your employer pays the total premium and does not include the cost of coverage in your gross income, then your benefits will be taxable. If your premiums are split by you and your employer, then your tax liability will be split as well.
It comes down to this: If you never use your disability benefits, you'll save money by paying your premiums with pretax dollars. But if you do use your disability benefits, using after-tax dollars to pay your premiums places you in a better position.
Different rules apply to an employer who pays for a disability insurance policy on an employee. This may be the case if there is a key employee in the business. If the employer gets the benefit, then the premium is not deductible to the company, and the benefit is not taxable when received by the company.
All, part, or none of the disability benefits you receive through government disability insurance programs may be taxable. How much of the benefit is taxable and under what circumstances depends on the type of government disability benefit you are receiving. These government benefits include Social Security disability income, Medicare benefits, worker's compensation, veteran's benefits, military benefits, and Federal employee's retirement system benefits.
A lot relies on your income, perhaps even more than you think. If the unexpected happens – if you become too sick or hurt to work – would your savings or the disability benefits you receive through your employer be adequate? As always, consult a trusted professional for advice.
I know what your saying, "It will never happen to me!" Right?